(All the usual workshop provisos apply: I can't be held responsible for any damage – use guide at own risk).
First off a HUGE thank you to Sonnet for discovering the GromAudio Ipod adaptor: you can read about it
here
Secondly thanks to Wozza for sending me through his comprehensive guide to removing the head unit a lot of which is copied here.
I take no credit for this guide – all the info I got from other LOC members.
This guide will seem pretty basic to those who have installed their own head units before and are confident with taking their dash apart but hopefully it will be helpful to those not quite so confident (as I was.)
Things you will need:
Masking tape
Pen
Philips Screwdriver
10mm Ratchet/Spanner
4th Gen Ipod or better
GromAudio ipod adaptor: Toyota / Scion / Lexus GROM for iPod interface(GROM-IPOD-TOY) (see Sonnet's link for where to get these or find them on ebay.)
And a bin…. for throwing away your tape adapters and FM transmitters.
First off prepare your dash – getting the stereo out is VERY likely to scratch your dash so protect it with masking tape (you can slide it down the gaps between the stereo and dash to ensure maximum protection.) Also either mask or remove your gear knob.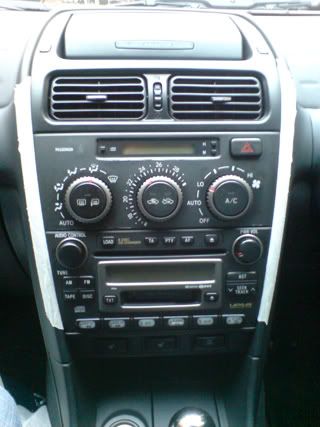 Now to remove the top part of the console. My IS has Sat Nav – if you don't have Sat Nav follow
these
instructions for removing the dash tray.
With the ignition on and the screen up – remove the panel in front of the screen (there's a little gap in the front/middle where you can fit a flat headed screwdriver in and lever it up.)
Once it's off you can turn off ignition and then remove the 2 philips screws that hold it in place.
The Sat nav and vents console just slides forward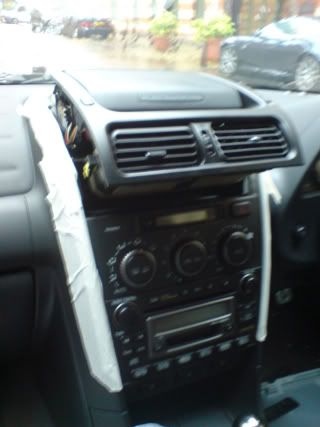 There are three plugs in the sat nav – remove these (push down tab then pull cables out.)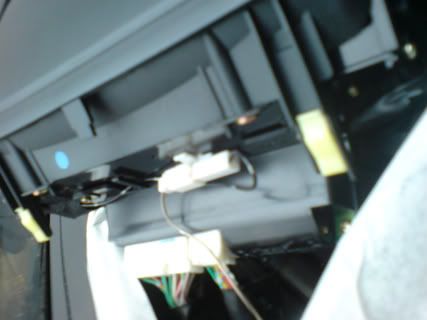 Now remove the Sat console.